Gas Springs With Welded Eyes | Made of Steel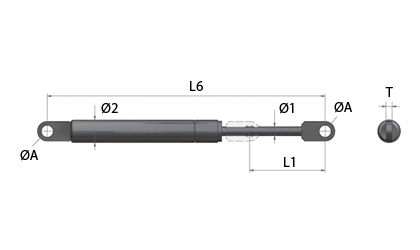 BE version - This version of gas springs has fixed welded eyes at the ends. The cylinder itself is made of steel and painted black. Gas springs with fixed welded eyes provide resistance when the piston rod is forced into the cylinder. The range is offered with force between 50.00N - 1200.00N (5.09 Kg - 122.36 Kg) and Lengths from 106.00 mm to 885.00 mm.
Find the correct dimensions by using the filters underneath. Open the filters by clicking the downward arrow.
If you know the stock-number, please write it in the search box at the top of the page.
See quantity discount by clicking on the green basket next to the item.
Typical delivery is within 1 - 2 days, If the gas springs are in stock and if the order is placed before 16:00 from Monday - Thursday. On Friday we will be sending until 15:45. It´s possible, If the stock number is known, to enter the stock number at the top of the page to get directly to the item.
If the required force is not known, you can select the VL-version. Here you can manually adjust the force. If the required length is not stocked, the model with threaded ends can be an option. It is also possible, with that model, to select an extension in order to achieve the necessary length.
About the gas spring
The piston rod is nitride treated, which provide moderate rust protection. Recommended use is in dry environment. When used in a humid environment, a stainless-steel model is recommended.
Our range of gas springs does not need to be oiled and is maintenance-free. They are is designed to perform a maximum of 5 beats per minute and perform a minimum of 30,000 movements over its lifespan when properly assembled. The model is intended for use at temperatures between -30 ° C and +80 ° C. It is recommended to use the shortest possible travel-lengh for the piston rod and maximum diameter of the cylinder of the gas spring for achieving the maximum durability. For all mounting, ensure that no lateral torsion or other forces that can affect free longitudinal axial movement. Read more about the characteristics at the bottom of the page.
View prices - Add to Cart
Ø1


Piston Rod diameter (mm)

Ø2


Tube diameter (mm)

L1


Stroke (mm) (+/- 2 mm)

L6


Unloaded length mideye to mideye (mm)

F


Force (N)

K


Force ratio

T


Eye thickness (mm)

ØA


Hole (mm)

SKU
Stock
Tech Drawing
Read More
3D CAD
6,00
15,00
20,00
106,00
50,00
1,30
3,0
6,1
BE-6-20-50-T
6,00
15,00
20,00
106,00
100,00
1,30
3,0
6,1
BE-6-20-100-T
6,00
15,00
20,00
106,00
150,00
1,30
3,0
6,1
BE-6-20-150-T
6,00
15,00
20,00
106,00
200,00
1,30
3,0
6,1
BE-6-20-200-T
6,00
15,00
20,00
106,00
250,00
1,30
3,0
6,1
BE-6-20-250-T
6,00
15,00
20,00
106,00
300,00
1,30
3,00
6,1
BE-6-20-300
6,00
15,00
20,00
106,00
300,00
1,30
3,0
6,1
BE-6-20-300-T
6,00
15,00
20,00
106,00
350,00
1,30
3,0
6,1
BE-6-20-350-T
6,00
15,00
20,00
106,00
400,00
1,30
3,0
6,1
BE-6-20-400-T
6,00
15,00
40,00
146,00
50,00
1,30
3,0
6,1
BE-6-40-50-T
Material
Cylinder and piston rod: The tube is painted semi-matte black, and the piston rod has been given a plasma nitride treatment that makes the surface extremely hardwearing and provides optimal rust protection.
However, the treatment cannot replace a dedicated stainless steel gas spring.
Oil: The oil is a common lubrication oil, but is not approved for food use. Vi har gasfjedre (AISI 316) med fødevare godkendt olie på lager, dog gasfjedre med gevind. Se sortimentet her.
Gas: The gas is nitrogen gas.
Stock number
Gas springs in the Sodemann Industrifjedre A/S range are defined based on the thickness of the piston rod, the stroke and the force in N.


Fitting And Use
Never use gas springs as a safety device. If damage to a gas spring could result in personal injury, provision must be made for this by means of a safety device. Alternatively, use a safety gas spring. Call for further information.
Gas springs must be stored and fitted with the piston pointing downwards and at 45 degrees to the horizontal. This is important, as this fitting will ensure that internal glands will remain lubricated by the oil inside the gas spring.
If a gas spring is fitted horizontally or with the piston upwards, the oil will run out of the glands, and thus wear and leaking glands will be the result of incorrect fitting. For each fitting you must ensure that there is no sideways deflection or other forces that will affect the gas spring in any way other than free axial movement in the gas spring's longitudinal direction.
Always use the shortest possible travel, and select the biggest possible cylinder diameter - this increases durability. Long thin gas springs will be considerably weaker than short fat ones.
Always fit stainless steel gas springs in places exposed to a damp environment or for use in the food industry. Note that the oil in the gas spring is not approved for use in the food industry.
Do not, therefore, fit gas springs directly over production, as a worn gas spring can leak oil. There is no need to lubricate the piston, as the spring is maintenance-free. Do not expose the gas spring to vibrations.
Gas springs are designed to perform no more than 5 strokes per minute at 20 °C. If this is exceeded, there will be a build-up of heat inside the gas spring that may result in leaky glands. Gas springs are designed to keep to 30,000 movements when fitted correctly.
It is recommended that physical stops always be used in constructions. This will ensure that the gas spring is not used with loads in excess of those for which it was designed. Movement of the gas spring is only dampened for the last section against the full extension of the piston.
Gas springs will lose pressure slightly over time, compared with the original pressure at the time they were fitted. A pressure loss of up to 10% may be expected.
It is recommended that you continue to ensure that the function of the gas spring complies with construction requirements. If in doubt, replace the gas spring. It is recommended that both gas springs be replaced if they work in pairs. A variation in pressure in gas springs working in pairs will result in a shorter service life for the gas springs.
Our gas springs work best in temperatures between -30 °C and +80 °C. Using the springs in temperatures close to those limits will produce an altered force, and maximal usage cannot be recommended. The compressed force of the gas springs is higher than the force in the extended position. The end force Fn is calculated by multiplying the initial force by the force quotient of the gas spring in question. Gas springs are filled at 20 °C, and the initial force is therefore measured at 20 °C. The force will change by approximately 3-3.5% per 10 °C. Tolerances on extended length dimensions (L6) are +/-3 mm.