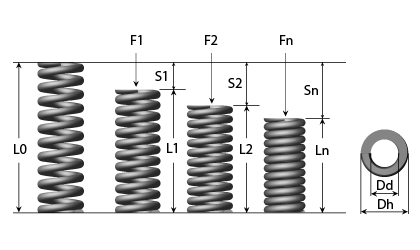 Order Monday-Thursday before 15:30 and Friday before 14:45 and we'll dispatch your order the same day with expected delivery within 2-4 days. This applies to all stocked torsion springs
See quantity discounts and prices by clicking on the shopping cart next to the required product.
Use the range sliders below to navigate around our large selection of Raymond die springs quickly and easily.
What is a Raymond die spring?
Die springs function like conventional compression springs. The more it is compressed, the more energy it releases. A die spring is produced from a rectangular spring wire, which provides greater force than ordinary round spring wire.
Based on the rectangular shape and unique coating of the wire, Raymond die springs can cope with heavy loads. The Raymond series of die springs is made from an extremely strong Chrome-Vanadium alloy in accordance with the DIN-17225 (SAE 6150) standard. The wire is then shot peened and heat-treated to increase the tensile strength and durability.
Characteristic of die springs is the significant force produced and a short spring travel. Virtually every size of die spring is divided into 4 colour categories, which are based on the force and travel of the die spring. See the colour groups under the table.
Please note that the colour code is not the same for Raymond and ISO die springs.
View prices - Add to Cart
Dh


Min. hole (mm)

Dd


Max shaft (mm)

L0


Unloaded length (mm)

R


Spring constant (N/mm)

S1


Travel at F1 (mm)

L1


Length at F1 (mm)

F1


Force in N at S1 (N)

Sn


Maximum travel (mm)

Ln


Max. loaded length (mm)

Fn


Maximum load at Ln (N)

SKU
Stock
Tech Drawing
Read More
3D CAD
9,53
4,75
25,40
10,50
6,35
19,05
67,00
11,94
13,46
125,00
ST50300
9,53
4,75
25,40
15,80
5,08
20,32
80,00
8,89
16,51
140,00
ST50310
9,53
4,75
25,40
19,30
3,81
21,59
74,00
6,86
18,54
132,00
ST50320
9,53
4,75
25,40
38,50
3,81
21,59
147,00
5,84
19,56
225,00
ST50330
9,53
4,75
31,75
9,50
7,94
23,81
75,00
14,92
16,83
142,00
ST50340
9,53
4,75
31,75
12,80
6,35
25,40
81,00
11,11
20,64
142,00
ST50350
9,53
4,75
31,75
17,20
4,76
26,99
82,00
8,57
23,18
147,00
ST50360
9,53
4,75
31,75
25,60
4,76
26,99
122,00
7,30
24,45
187,00
ST50370
9,53
4,75
38,10
7,00
9,53
28,58
67,00
17,91
20,19
125,00
ST50380
9,53
4,75
38,10
11,70
7,62
30,48
89,00
13,34
24,76
156,00
ST50390
Material
SAE-AISI 9254 (G92540) Silicon-Chromium Steel. The wire is pulled extra fine, heat-treated and shot peened.br />Working temperature between -200 ºC and +200 ºC
Raymond die springs are made from an extremely strong Chrome-Vanadium alloy in accordance with DIN-17225 (SAE 6150).
Tolerances
There are no tolerances for Raymond die springs. They just need to stay within the minimum hole (Dh) and maximum shaft (Dd) dimensions.
Datasheet and 3D CAD
If you want a PDF datasheet or a 3D CAD drawing of the spring in .step, .iges or .sat format, these can be downloaded for free by clicking on the 3D CAD symbol next to the item number in the table.
Color coding
The colour labelling is done by powder coating without a special protection from corrosion.
Blue

Minimun load - Longest travel
Red

Medium load - medium travel
Bronze

High load - short travel
Green

Particularly high load - shortest travel
Winding direction
Usually right. The force and application is not affected by the direction of wind.
Standard die springs are not defined with a specific direction of wind. Depending on production, the springs may be either right or left wound.
Service life of springs
The service life of a spring is generally very difficult to define. A large number of parameters come into play, and it is therefore impossible to define a service life. Parameters with a significant influence on service life include: Installation, installation method, number of movements, vibrations, shocks, torsion, length of travel, non-axial travel, temperature, wear against other surfaces, environment of use, any cleaning agents, lateral impacts, etc.
The maximum force (Fn) and/or maximum travel (Sn) should not be exceeded, as this reduces the service life significantly. To avoid uncontrolled dynamic stress, die springs should always be fitted with a specific initial tension.
The longest service life is achieved with load and travel of max. 25% of the free length (L0).
Misc.
If die springs in cars or other applications are fitted or replaced with our die springs, Sodemann Industrifjedre A/S cannot be held responsible for any differences in performance or damage.
This also applies to customers who visit Sodemann Industrifjedre A/S and get help and/or guidance.
It is not possible to get custom-made die springs.
Internet Explorer Incompatibility
This website unfortunately does not work well with Internet Explorer. We recommend using one of the following free browsers:
Copyright © 2020 Sodemann Industrifjedre A/S. All rights reserved.