Die springs | Over 700 Dimensions in Stock
Die springs for fast delivery!
Buy your die spring from our online shop now
All die springs are stock items and are available for next-day delivery. Die springs are painted compression springs of rectangular wire. The paint has no protective effect, but instead provides a colour code for identifying the force of that particular die spring.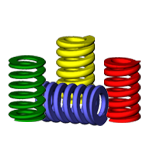 ISO die springs
ISO die springs are very good quality. This series has the biggest selection of die springs. They are categorised in 4 different colour groups based on travel and hardness. We have over 380 in stock, ready for dispatch.
View our products
Info box
| | |
| --- | --- |
| Minimum hole (Dh): | 10,00 mm - 63,00 mm |
| Maximum shaft (Dd): | 5,00 mm - 38,00 mm |
| Free length (L0): | 25,00 mm - 305,00 mm |
| Spring constant (r): | 1,10 N/mm - 709,00 N/mm |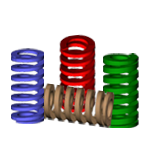 Raymond die springs
Raymond die springs are the best quality. After a Raymond die spring is produced, the spring is shot peened. This increases the spring's durability. This series is divided into 4 colour groups based on hardness and travel. We have over 350 in stock, ready for dispatch.
View our products
Info box
| | |
| --- | --- |
| Minimum hole (Dh): | 9,53 mm - 50,80 mm |
| Maximum shaft (Dd): | 4,75 mm - 25,40 mm |
| Free length (L0): | 25,40 mm - 304,80 mm |
| Spring constant (r): | 1,10 N/mm - 668,00 N/mm |