Two series of high-quality die springs in stock
The die spring ranges are made from rectangular spring steel. The larger cross-section surface area provides greater forces and less travel than ordinary round spring wire.
The colour coding of die springs does not provide any additional protection, but helps to divide them into different force strengths. Read more about the colour codes under technical information on the product pages.
The range consists of two series: The ISO series and the Raymond series. The Raymond die spring is of the very highest quality and is made from high-quality SAE-AISI 9254 (G92540) Silicon-Chromium Steel. The wire is rolled extra fine, heat-treated and shot peened, which helps to increase the tensile strength and durability. ISO springs are of the same high-quality material as Raymond springs, and the wire is rolled to the usual high standard, but is not shot peened.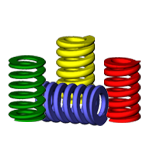 ISO die springs
ISO die springs are very good quality. This series has the biggest selection of die springs. They are categorised in 4 different colour groups based on travel and hardness. We have over 380 in stock, ready for dispatch.
View our products
Info box
| | |
| --- | --- |
| Minimum hole (Dh): | 10,00 mm - 63,00 mm |
| Maximum shaft (Dd): | 5,00 mm - 38,00 mm |
| Free length (L0): | 25,00 mm - 305,00 mm |
| Spring constant (r): | 1,10 N/mm - 709,00 N/mm |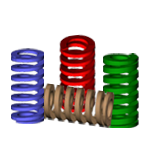 Raymond die springs
Raymond die springs are the best quality. After a Raymond die spring is produced, the spring is shot peened. This increases the spring's durability. This series is divided into 4 colour groups based on hardness and travel. We have over 350 in stock, ready for dispatch.
View our products
Info box
| | |
| --- | --- |
| Minimum hole (Dh): | 9,53 mm - 50,80 mm |
| Maximum shaft (Dd): | 4,75 mm - 25,40 mm |
| Free length (L0): | 25,40 mm - 304,80 mm |
| Spring constant (r): | 1,10 N/mm - 668,00 N/mm |