Conical compression springs in stainless spring steel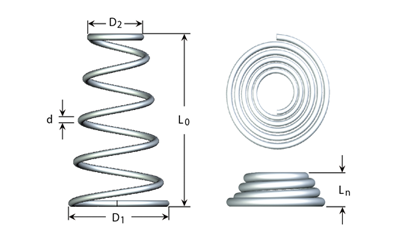 Order Monday-Thursday before 15:30 and Friday before 14:45 and we'll dispatch your order the same day with expected delivery within 2-4 days. This applies to all stocked conical compression springs.
See quantity discounts and prices by clicking on the shopping cart next to the required product.
We have over 100 different dimensions of conical compression springs in stock. By using our range sliders you can easily and quickly find the conical compression spring you need.
What is a conical compression spring?
The design of conical compression springs provides greater travel and stability than "normal" compression springs. Therefore, conical compression springs are ideal for applications where stability and a short compressed length are important.
View prices - Add to Cart
Material
d


Wire diameter (mm)

D1


External diameter large end (mm)

D2


External diameter small end (mm)

L0


Unloaded length (mm)

Ln


Max. loaded length (mm)

Sn


Maximum travel (mm)

Fn


Maximum load at Ln (N)

50%


of L0 (N)

SKU
Stock
Tech Drawing
Read More
3D CAD
Stainless steel 302
0,74
10,67
4,75
7,92
1,48
6,44
16,37
10,05
A420-029-031
Stainless steel 302
0,74
10,67
5,54
6,35
1,48
4,87
13,97
9,07
A420-029-025
Stainless steel 302
0,74
12,19
4,75
15,88
1,48
14,40
17,35
9,56
A480-029-062
Stainless steel 302
0,74
12,19
5,54
12,70
1,48
11,22
15,12
8,58
A480-029-050
Stainless steel 302
0,74
12,19
7,14
7,92
1,48
6,44
11,08
6,81
A480-029-031
Stainless steel 302
0,74
15,24
7,14
25,40
1,48
23,92
11,61
6,18
A600-029-100
Stainless steel 302
0,81
10,67
3,96
7,92
1,62
6,30
25,66
16,15
A420-032-031
Stainless steel 302
0,81
10,67
4,75
6,35
1,62
4,73
21,08
14,19
A420-032-025
Stainless steel 302
0,81
12,19
3,96
15,88
1,62
14,26
27,27
15,21
A480-032-062
Stainless steel 302
0,81
12,19
4,75
12,70
1,62
11,08
22,33
12,81
A480-032-050
Material
Stainless steel:
DIN 17224, AISI 302, WERKSTOFF NR. 1.4310, EN Norm 10270-3
Working temperature between -200 ºC and +250 ºC
Tolerances
Spring constant (r): +/- 10 %
Free length (L0): +/- 0.635 mm
Max. force (Fn): for reference only
Diameter D1 & D2: up to 6.096 mm: 0.127 mm
Diameter D1 & D2: up to 12.7 mm: 0.2032 mm
Diameter D1 & D2: up to 25.4 mm: 0.381 mm
Datasheet and 3D CAD
If you want a PDF datasheet or a 3D CAD drawing of the spring in .step, .iges or .sat format, these can be downloaded for free by clicking on the 3D CAD symbol next to the item number in the table.
Configuration of ends
The ends have been finished without grinding.
Winding direction
Usually right. The force and application is not affected by the direction of wind.
Standard conical compression springs are not defined with a specific direction of wind. Depending on production, the springs may be either right or left wound.
Service life of springs
The service life of a spring is generally very difficult to define. A large number of parameters come into play, and it is therefore impossible to define a service life.
Parameters with a significant influence on service life include: Installation, installation method, number of movements, vibrations, shocks, torsion, length of travel, non-axial travel, temperature, wear against other surfaces, environment of use, any cleaning agents, lateral impacts, etc.
Always dimension a conical compression spring so that it delivers the desired travel and force with as little exertion as possible. This will give the spring the longest possible service life.
Applying the maximum load to the spring or exceeding it will shorten its service life and may cause it to become permanently distorted.
Therefore we recommend that you do not use more than 75% of the maximum travel (Sn) of conical springs.
Misc.
Conical compression springs will more or less set themselves depending on the load and travel.
Conical compression springs can deliver travel down to a height (Ln) of approximately 2 x the wire thickness (d). However, this is not recommended due to reduced service life.
If a conical compression spring is compressed to its maximum loaded length (Ln), the spring will permanently set itself. It will then not return to its original length (L0).