Conical Compression Springs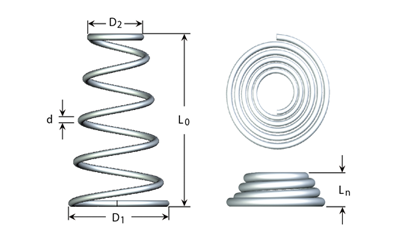 This series of conical springs is ideal when stability and a short compressed length are important. The conical shape provides excellent stability at one end, along with greater travel than with conventional compression springs. We have around 100 different sizes of conical compression springs in stock, ready for dispatch. We only have conical springs in stainless steel.
We recommend that you use a maximum of 75% of Sn.
Material
Stainless steel:
DIN 17224 WERKSTOFF NO. 1.4310 EN Norm 10270-3
Working temperature -200 ºC and +250 ºC
Winding direction
Usually to the right
Misc.
This series of conical compression springs is designed to provide travel all the way down to a height (Ln) of 2 x wire thickness. The spring constant is linear due to the variable pitch.
The ends have been finished without grinding.
If the springs are compressed to Ln, the spring will set itself. It will then not return to its original length, L0.
All compression springs set more or less in proportion to travel.
We recommend that you use a maximum of 75% of Sn.
Always dimension a spring so that it delivers the desired travel and force with as little exertion as possible. This prolongs the service life of the spring. Applying maximum load to the spring will shorten its service life and cause it to become permanently distorted.
d


Wire diameter (mm)

L0


Unloaded length (mm)

Ln


Max. loaded length (mm)

Sn


Maximum travel (mm)

Fn


Maximum load at Ln (N)

Nt


Coils in total (Pcs.)

D1


External diameter large end (mm)

D2


External diameter small end (mm)

50%


of L0 (N)

SKU
Tech Drawing
Compare
Read More
Add to Cart
Stock
3D CAD
0,66
19,05
1,32
17,73
6,05
5,25
15,24
9,53
3,25
A600-026-075

2,148

0,66
25,40
1,32
24,08
7,03
5,00
15,24
8,71
3,74
A600-026-100

26

0,66
31,75
1,32
30,43
8,54
6,75
15,24
7,92
4,45
A600-026-125

25

0,74
6,35
1,48
4,87
13,97
4,50
10,67
5,54
9,07
A420-029-025

30

0,74
6,35
1,48
4,87
23,53
4,50
9,14
3,18
15,35
A360-029-025

113

0,74
7,92
1,48
6,44
11,08
4,00
12,19
7,14
6,81
A480-029-031

28

0,74
7,92
1,48
6,44
16,37
4,75
10,67
4,75
10,05
A420-029-031

129

0,74
9,53
1,48
8,05
12,01
4,75
12,19
6,35
7,07
A480-029-037

18

0,74
9,53
1,48
8,05
18,82
5,00
10,67
3,96
11,12
A420-029-037

27

0,74
12,70
1,48
11,22
15,12
5,75
12,19
5,54
8,58
A480-029-050

13