Torsion Springs | All in Stock
Torsion Springs for fast delivery!
All standard Torsion springs are stock items and are available for fast delivery. Buy your torsion spring from our online shop now! Torsion springs are used to produce torque or accumulate rotational energy in an assembly construction. A torsion spring is typically mounted on a mandrel.The mandrel is dimensioned so there is just enough of a gap between the mandrel and the inner side of the spring body.
There must not be too much or too little gap between the mandrel and the spring body. If there is too much gap, the spring body may collapse, and if there is too little of a gap the spring body may lock onto the mandrel when loaded. The spring must always be loaded in the direction that allows the spring body to "close". Right or left wound springs can be chosen, so that they can be mounted in pairs on a mandrel.
All standard torsion springs are available as either right or left coiled.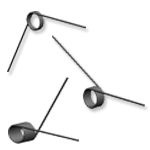 Info box
| | |
| --- | --- |
| Wire diameter (d): | 0,41 mm - 3,43 mm |
| Outer diameter (De): | 4,78 mm - 29,51 mm |
| Inner diameter (Di): | 3,96 mm - 23,07 mm |
| Leg position: | 120° - 210° - 300° |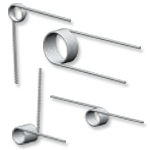 Torsion Springs Made of Stainless Steel
We offer torsion springs in stainless steel with four different leg positions. If a different leg position is required, our series in music wire may perhaps be able to help. We have over 350 different sizes in the range. Most of them are ready for dispatch.
View our products
Info box
| | |
| --- | --- |
| Wire diameter (d): | 0,30 mm - 3,43 mm |
| Outer diameter (De): | 2,36 mm - 44,58 mm |
| Inner diameter (Di): | 1,76 mm - 37,72 mm |
| Leg position: | 90° - 180° - 270° - 360° |