Multiwave Compression Springs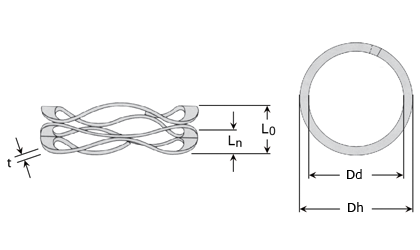 Multi-wave compression springs have been designed for use in constructions where it is not possible to use a "normal" compression spring due to space problems in terms of length. We have over 100 different sizes in stock, ready for dispatch. This series is available in stainless steel only.
Material
Stainless steel:
Stainless steel 17-7PH WERKSTOFF NO. 1.4542
Working temperature -200 ºC to +340 ºC
Misc.
Multiwave compression springs are designed to be used in applications where space problems in the length preclude the option of using a "normal" compression spring.
Dh


Min. hole (mm)

Dd


Max shaft (mm)

t


Thickness (mm)

L0


Unloaded length (mm)

Ln


Max. loaded length (mm)

Fn


Maximum load at Ln (N)

R


Spring constant (N/mm)

SKU
Tech Drawing
Compare
Read More
Add to Cart
Stock
3D CAD
6,4
9,5
0,2
3,8
1,58
17,8
7,9
MW0375-0150-04S

27

6,4
9,5
0,2
6,4
2,74
17,8
4,9
MW0375-0250-04S

27

6,4
9,5
0,2
8,9
3,81
17,8
3,5
MW0375-0350-04S

17

6,4
9,5
0,2
11,4
4,95
17,8
2,8
MW0375-0450-04S

47

6,4
9,5
0,3
3,8
2,06
31,1
17,7
MW0375-0150-07S

47

6,4
9,5
0,3
6,4
3,68
31,1
11,7
MW0375-0250-07S

31

6,4
9,5
0,3
8,9
5,13
31,1
8,2
MW0375-0350-07S

65

6,4
9,5
0,3
11,4
6,66
31,1
6,5
MW0375-0450-07S

22

7,1
11,1
0,2
4,2
1,6
17,8
6,8
MW0437-0165-04S

41

7,1
11,1
0,2
7
2,77
17,8
4,2
MW0437-0275-04S

56