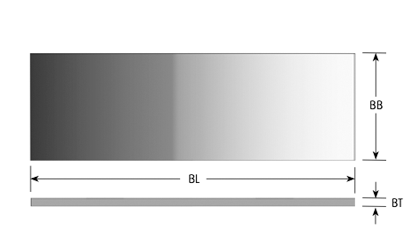 Leaf springs for fast delivery!
Leaf springs are stock items and are available for fast delivery. Buy your Leaf spring from our online shop now!
This serie of leaf springs are intended for prototypes or just a few pieces made of strip steel.
This range of leaf springs in spring-hard strip steel is designed for use in the production of prototypes or just a few items that have to be bent.
The range is divided into various widths and thicknesses, so you can buy various dimensions to experiment with, etc. The whole range is the same length, 100 mm. Lengths up to 300 mm can be supplied on special order.
If there is a leaf spring you want a quote for, please send your prototype or create a drawing with complete dimensions.
View prices - Add to Cart
Material
BT


Leaf thickness (mm)

BB


Leaf width (mm)

BL


Leaf Length (mm)

SKU
Stock
Tech Drawing
Read More
3D CAD
Stainless steel 302
0.10
10.00
100.00
BF1104
Stainless steel 302
0.10
15.00
100.00
BF1108
Stainless steel 302
0.10
20.00
100.00
BF1112
Stainless steel 302
0.10
25.00
100.00
BF1116
Stainless steel 302
0.10
30.00
100.00
BF1120
Stainless steel 302
0.10
40.00
100.00
BF1124
Stainless steel 302
0.10
50.00
100.00
BF1128
Stainless steel 302
0.20
10.00
100.00
BF1136
Stainless steel 302
0.20
15.00
100.00
BF1140
Stainless steel 302
0.20
20.00
100.00
BF1144
Material
Stainless Steel Spring-hard strip steel EN 10151-1.4310