Disc springs | Quantity Discount
Disc springs for fast delivery!
Disc springs are stock items and are available for next-day delivery. Buy your Disc spring from our online shop now!
Disc springs are a good choice in structures where high strength is required but space is limited. By combining several disc springs in layers it is possible to achieve varying force and travel.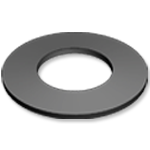 Black steel
Black disc springs are phosphated and oiled. This offers some degree of protection, but does not provide definite rust protection. Several of the dimensions are also available in a stainless steel version.
We have most dimensions in stock, ready for dispatch. Please note we do not have prices for the largest disc springs. Please contact us for further information.
View our products
Info box
| | |
| --- | --- |
| Outer diameter (De): | 6,00 mm - 250,00 mm |
| Inner diameter (Di): | 3,20 mm - 127,00 mm |
| Thickness (t): | 0,20 mm - 16,00 mm |
| Maximum Force (Fn): | 26,00 N - 383.017,00 N |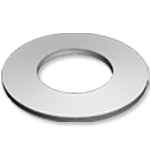 Stainless steel
Stainless steel disc springs have not been given any further surface treatment. These disc springs will cope well in wet or damp environments. Please note, however, that e.g. salt water is very hard on the springs. We therefore recommend that you get in touch with us if you are uncertain.
Our range of disc springs is also available in black steel
View our products
Info box
| | |
| --- | --- |
| Outer diameter (De): | 6,00 mm - 112,00 mm |
| Inner diameter (De): | 3,20 mm - 57,00 mm |
| Thickness (t): | 0,20 mm - 5,00 mm |
| Maximum Force (Fn): | 89,25 N - 28.621,20 N |