A unit that offers controlled raising or lowering of an object without the use of external energy.
Gas springs are used everywhere and in innumerable assemblies. If an engineer, constructor or designer wants controlled movement without the addition of extra energy - gas springs may be the solution in many cases.
The advantages of gas springs over mechanical springs are their speed and their unique damping properties, which allow even heavy objects to be handled with ease. A large range of fittings offers plenty of possibilities and combinations for design and mounting.
The strong point of a gas spring is that it offers a harmonious and controlled finishing touch to your assembly.
Our website offers many solutions to help you with your challenges.
---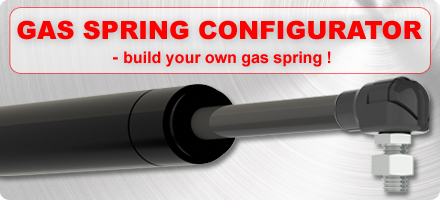 ---
Gas springs consist of a cylinder that functions as a pressure pipe. A piston rod with a piston and end fittings. Gas springs contain pure nitrogen gas. Nitrogen gas cannot explode and is non toxic. Gas springs have a very high pressure internally, and therefore they must not be opened except under instruction.
The gas spring cylinder is powder-coated, and the gas spring piston rod has been given a Nitrider surface treatment. It is corrosion resistant - but cannot be used in environments with a constant damp load.

Here stainless steel gas springs are used. These are made from 304 stainless steel, which is rust free but not acid proof.